Shamerrific Shine details boats and RVs, getting them sparklingly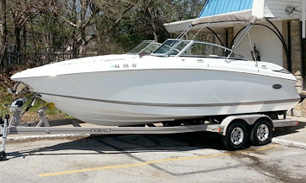 clean and ready for wherever your next adventure takes you. No matter the size of the vehicle, detailing can make a huge difference in how a vehicle feels when riding in it. Wether you're getting set to impress on a boat outing, or heading cross-country with the family in an RV, detailing helps you make a quality impression and gives you luxury to enjoy. We offer these special services to corporate and individual clients alike.
Each detail package is individualized to the needs of the person or entity requesting it, please
contact us
for more information about available boat and RV detailing services.