Check out this job we are currently hiring for!  Submit resumes to christina@shamerrificshine.com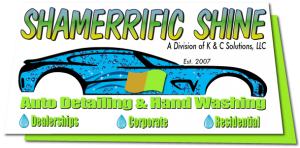 The Administrative / Customer Service / Accounting Coordinator needs to be a trustworthy person would can work in a fast paced environment. This position is the first point of contact with clients and assists management with office coordination, customer service, scheduling, client management, client development, light accounting and administration. The position coordinates administrative support for the office while effectively managing multiple projects simultaneously. The Administrative Coordinator handles all office administrative, customer service and light accounting responsibilities as directed by management. This position requires an energetic, articulate, and driven individual who is able to consultatively give business and service information to inquirers via telephone, email, and in person.
Major Position Responsibilities:
Greet all incoming customers and schedule service appointments for customers

Answer phone calls and consult customers on services

Upsell services to customers to make sure customer receives quality results and services

Go over vehicles with customers upon arrival to point out areas of concern to make sure package is best for them

Go over vehicles with customer after service is complete to ensure satisfaction

Make satisfaction calls to customers

Respond to clients and customers via phone, mail, email and social media

Input daily work logs into excel payroll spreadsheet; payroll processing

Assist in development and implementation of company procedures, processes and policies

Create and maintain customer and vendor records and files and database in accordance with company requirements

Research and soft sales to dealerships and company prospects with management

Coordinate the handling of team member performance issues as needed in the interest of maintaining company quality

Input sales receipts and invoices into QuickBooks

Input and maintain customer information in company database

Update and maintain weekly lot wash, mobile and corporate routes and detail schedules

Input receipts and checks into checkbook and QuickBooks

Send monthly invoice statements to dealerships / companies

Communicate with companies all outstanding invoices and accounts receivables

Receive client check payments in QuickBooks

Receive credit card payments in QuickBooks

Take credit card payments and make bank deposits

Assist management team with research for business on local and regional level

Assist with team member recruiting

Assist with creating brochures, pamphlets and newsletters

Create email promotions and newsletters and send to customers

Maintain Facebook, Instagram, Linked-In and Twitter accounts for two companies

Manage other projects as assigned
Required Qualifications
Proficiency with Microsoft Office software. Must complete proficiency test for Microsoft Word & Excel.

Proficiency with QuickBooks software and/or willingness to attend QuickBooks software training.

Demonstrated customer service skills.

Ability to take initiative; self-starter with need for minimal supervision.

Strong organizational skills; ability to work on numerous projects simultaneously; flexibility.

Strong written and verbal communication skills.

Ability to manage details with a high degree of accuracy.

Demonstrated ability to work in a team environment and handle multiple tasks.

Ability to work fluently within various types of software.

Commitment to accuracy; attention to detail.
Preferred Qualifications
Social media knowledge or strong interest in learning

Ability to write business documents and correspondences

College degree in business or business experience equivalent preferred

Two years of experience working with small businesses preferred
Compensation: $11 – 13+ per hour (DOE)